OVERVIEW OF THE SHOPPING REWARDS PROGRAM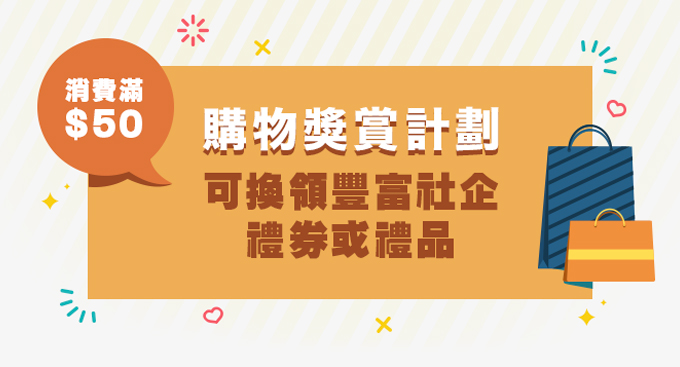 1.【TECM Shopping Rewards Program】
The Shopping Rewards Program will be held from 25th September 2020 to 28th February 2021 with the aim to motivate the general public to practice their ethical consumption as a way to support social enterprises. For consumers, you can earn stamps to redeem various social enterprise's prizes and coupons.
For every HK$50 worth of good/service purchased in designated social enterprises (SE), the consumer will earn one stamp in return. This year we have many more new partners in offering many favorable prizes for gift redemption and they are on a first-come-first-served basis. If you can make your purchase meaningful, why not shop at a social enterprise?
2.【TECM x CLP Power Connect Programme】
Consume to Pay It Forward - Connecting People with Love
In addition to winning incredible prizes through our Shopping Rewards Program, you can also earn CLP Power Hong Kong Limited (CLP) Eco Points as long as you are a CLP customer The points collected can be used to redeem for more gifts and prizes!
For further details, please refer to the CLP Power Connect website.
Terms and Conditions:
The Shopping Rewards Program starts from September 25, 2020 and ends at February 28, 2021. This program is only applicable to the participating social enterprises. See the participating SE list here.
Customers can get the stamp book at our participating social enterprises.
Purchasing HK$50 worth of good/service can get one stamp, HK$100 for two stamps and so on. There is a limited supply of stamps.
Every single transaction can have a maximum of 60 stamps. The number of stamps given will be based on the transaction amount, if applicable, after discount and/or after cash coupon discount.
All redemption of prize and coupons must be completed on or before February 28, 2020. Once the redemption period is expired, all redemptions shall forthwith become invalid, and shall not be re-issued nor extended. Quotas apply while stocks last. See the prize redemption here.
The stamp program is not applicable to prepaid deposits or purchases of packages, while it applies to actual consumption out of the prepayment.
If you have any enquiries on the Shopping Rewards Program, please email tecm@fses.hk or call at +852 3619 0145.
The Shopping Rewards Program is subject to the General Terms & Conditions. In case of dispute, the decision of the TECM committee is final and binding.